The chances are you've already heard of the global gaming giant that is Electronic Arts (EA), and the chances are also pretty high that you've owned or played several of their games.
Founded in 1982, EA is a leading global interactive entertainment software company, delivering games, content and online services forinternet-connected consoles, personal computers, mobile phones and tablets.
The second-largest gaming company in the Americas and Europe by revenue and market capitalisation, after Activision Blizzard, they are acknowledged as the leader in sports game development.
Despite EA being headquartered in Redwood City, California, they actually have quite a large presence right here in South England. Their new European HQ is in Chertsey, Surrey, and two of their subsidiary companies are close by in Guildford. Criterion Games and Ghost Games (formerly EA Gothenburg) have both helped in creating EA's Need for Speed franchise, and Criterion Games have also helped out with the recent Star Wars: Battlefront series. To have such a global gaming firm operating a few miles away from us here at Whitehill & Bordon, presents a unique opportunity to learn from those at the top of their game and create alongside the best.
EA is recognised for a portfolio of critically acclaimed, high-quality blockbuster brands such as The Sims™, Madden NFL, EA SPORTS™ FIFA and Battlefield™ – globally iconic games, and in fiscal year 2017, EA posted GAAP net revenue of $4.8 billion.
EA founder Trip Hawkins was originally an Apple employee, at a time when the company had only about 50 employees, but left Apple to start Electronic Arts. The company began developing games in-house and supported consoles by the early 1990s. EA later grew via acquisition of several successful developers and by the early 2000s, EA had become one of the world's largest third-party publishers.
Hitting the $1 billion mark in digital revenue in 2011 was 'an incredibly important milestone' for the company, according to EA CEO John Riccitiello, and it served as the springboard for the company to begin their move to more online-focused services. In June 2011, EA launched Origin, an online service, to sell downloadable games directly to consumers. EA continued their shift toward digital goods in 2012, folding the mobile-focused EA Interactive (EAi) division 'into other organisations throughout the company'.
What the company are perhaps most famous for, is their sports games. They almost have a monopoly on sports games played around the world, with titles such as FIFA, Madden, NBA and UFC all under their belt. FIFA 18 came out on top as the most popular game in the UK last year; they have even adapted a new Russia World Cup section on FIFA 19!
EA's ability to capture and retain vast markets across the globe is due to their constant adaptation and improvement of games. Sport games offer a unique opportunity for developers, as each year they must change features and release a new game to stay in line with team changes, such as new players and kits. But this is not the only thing they change; they are also very in touch with the state of the sport itself, and accurately reflect that in the way they create and shape the games, to give the player the ultimate experience.
Their ambition for their influence to transcend beyond just that of a video game, is also something EA take a lot of pride in. They were recently recognised by Diversity Journal as part of the Top 10 International Innovations in Diversity Award listed companies. One reason for this is, of course, how the company themselves operate. "Commitment to diversity and inclusion starts from the top, with our diversity council made up of our most senior leaders and chairs."
However it's the stories and themes within the games that hold the most significance for gamers. In Dragon Age: Inquisition, EA introduced the first transgender character: a lieutenant in the army, who as a child grew up female, but later on in life discovered that his true gender identity is male. In EA SPORTS FIFA – EA introduced its first story mode with a fictional character, Alex Hunter; a mixed-race 17-year-old from humble roots in Clapham, London. This is a story line that not only FIFA players can relate to, but the average male growing up in London can too – it helps to provide a message of empathy and unity in football.
Environmental consciousness is something EA are also very passionate about; even the smallest of changes can make a vast difference. Running initiatives such as installing low-energy LED light bulbs and timers to shut off common and public area lights and video equipment after hours, using 100% compostable products, and using electric vehicles for employees, are just a few examples of how the global gaming company are keeping their carbon footprint down.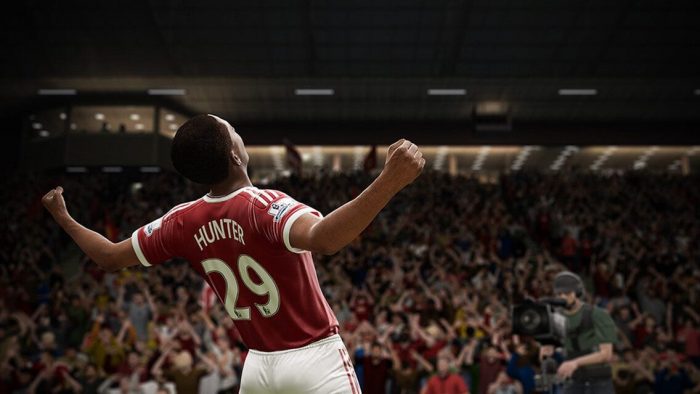 So what's next for EA?
The annual big release coming up is EA SPORTS™ Madden NFL 19 (released 8/2/18), EA SPORTS™ NBA Live 19 (released 8/31/18), EA SPORTS™ NHL® 19 (released 9/6/18) and EA SPORTS™ FIFA 19 (released 9/20/18).
They have also announced major new online improvements – EA Access members will soon be able to visit a brand-new web experience; it includes remote game installs direct to your console from a computer or mobile device.
Additionally, EA are working on complete visual overhaul, improved navigation and even more amazing game news, trailers, streams and more.